Reviews
We couldn't have said it better ourselves…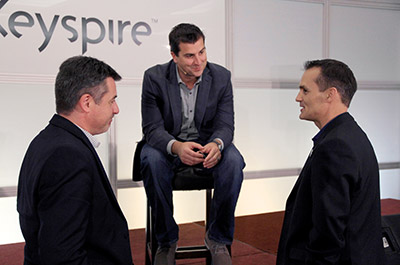 We always strive to take great care of our members. Feedback from our customers is revitalizing and motivating for our organization and also allows us to continue to build the community around our member's needs. At Keyspire, we continuously improve our events and programs and always take into consideration all feedback from our valued community. Our goal is to continue to fulfill and improve the Keyspire experience for all.
Would you like to share your Keyspire experience with us?
Click Here to send us your review!
What People Are Saying

It all started from taking Michael Sarracini and Rae Ostrander's three day Keyspire Workshop, so many ideas, tools and strategies filled my head. Learning how to be in my "Performance Zone" is a truly amazing feeling. From the workshop, I implemented at least five of the many strategies I learned in the first year. I can honestly say that for the first time, my investments are truly working as hard as I am. My "why", to retire sooner rather than later and help as many people I can along the way, will be realized way sooner than expected.Thank you, Keyspire! I owe everyone a huge thanks!


Thanks everyone for the very informative 3 days I just experienced. The property management section was very useful to me as well as knowing that standard investing isn't the way to financial security. Thanks again.


I attended the free seminar in Edmonton yesterday, Nov. 2nd. Scott is such a wonderful speaker, very positive and encouraging. Even if I wasn't feeling well I was able to focus on his positive advice. I want to buy more rental properties in the very near future.I got my husband to sign up for the 3 Day Workshop in January 2015. Awesome day!


The November 1st, 2014 Ottawa, Ontario event ran efficiently and in a timely manner. Scott was personable and approachable. He touched on the key points without going into too much detail, which tied in nicely to the January workshop. There was just enough information to "wet" the appetite. Unknowingly, he quickly brought to light the "sticking point" of our personal journey in the investment property scene. Scott gave us the push needed in a warm and fuzzy manner.The event was well worth the time and a great first step to join the world of property investment. We look forward to sending Scott a postcard from our retirement home, while our property manager takes the cheques to the bank.


I attended a Keyspire seminar October 26th in Toronto. I went with a few like-minded friends and we all left extremely inspired. We all went into the event thinking this might be an opportunity that would interest us but we left knowing it was something we all wanted to do. We immediately took Scott's advice and made ourselves goals and begun to plan how we were going to achieve those goals. I am very excited to learn more about real estate investing and plan to pursue my first property within the next 18 months.


Insight today was mostly around focusing on commercial side of market targeting fully financeable cash flowing projects. These are limited and harder, but not impossible to find, as we saw today. My particular issue is high assets, low available cash so creative financing can get me over this hump. I also saw how I can expand and build on my existing corporate structure which consists of a single holding company at this point.


I attended Scott's Wealth Tour, in the City of Ottawa at 10:00 a.m. on Nov. 1st, 2014. My husband and girlfriend accompanied me. The three of us left the seminar energized and wanting to learn more. What I appreciated most about the seminar was Scott's delivery. It was factual, sensible, and real with a little humour mixed in. The fact that Scott is a Canadian and lives in the Province of Ontario allowed me to relate to everything; tax laws, purchase of agreement laws, investment laws etc. I have a very keen interest in real estate investing because I currently own real estate and realize the positive impact it has had on my life thus far. I crave adventure and I know through further investments it will not only be a positive impact on my life but others as well. I truly enjoyed the seminar and hope to attend the three day workshop in January.


What I loved the most about the Keyspire event in Ottawa was that it affirmed what I do know, inspired me and gave me a comprehensive outline of real estate investing topics that are imperative to study and learn about in order to succeed. Considering it was free, it was definitely well worth my time! I am excited to create wealth through real estate because this is the first time in my life that I have felt it is possible. I have wanted to invest in real estate since I was 18 but unfortunately talked to people that discouraged me and also led me to believe that it was not feasible for me at that time. 19 years later, I am older and have developed persistence and realize that if someone says it can't be done, just keep looking until you find someone that says it can be done and how to do it. Thanks Scott for a great event!


Attended the Ottawa event November 1st, 2014. Have followed Scott and Income Property for some time now and was great to see him in person. Scott is a great motivational speaker and is very down to earth. He instilled confidence that owning an income property or several income properties WAS NOT impossible and the key to success was time in the market and not market timing. Looking forward to the January 2015 Workshop!


My husband and I attended the seminar on Oct. 26 at the International Centre, Toronto. I have watched Scott's TV show and always find him to be one of the most honest personalities, with real life knowledge! I found the attitude of all of the people involved with this organization to be very motivating and as a realtor, I usually find these "free" events boring or simply a waste of my time, however, we stayed right to the end and Scott kept us engaged and entertained! Not only did we stay, we signed up for the 3-day event and are very excited!!!


I really enjoyed Scott's Wealth Tour presentation today in Ottawa. He is very motivated and enthusiastic about sharing his wisdom with others. Although I'm already a landlord, I am excited to learn more about how to leverage more properties successfully to expedite income and wealth generation. Looking forward to the three-day seminar!


Very informative conference in Ottawa given by Scott this weekend, I came in place of my dad who had to work this weekend and drove my mom, but ended up learning so much about real estate and how it can benefit me in the long term. Mom and I will be attending the course now this fall and are very excited to do so! I'm particularly excited to build my investment portfolio now that I am young and hope to use this conference on real estate to my benefit within the next few years. Thanks Scott!


I really enjoyed the event I attended today in Toronto. I felt that Scott & his team were very genuine, they really did want to educate and help people build their net worth through real estate investing. The seminar was a combination of facts & statistics, tips & tricks, real life case studies, and general real estate knowledge all delivered by Scott McGillivray himself. I thoroughly enjoyed the seminar and thought it was a great stepping-stone into real estate investment.


The education received, the events and networking opportunities are top notch. I never pressured do buy anything but rather educated on options I never knew existed. Michael and Scott are very humble & great men who lead by example. Thank you, thank you, thank you!!! My wife took me on a valentine date to the Wealth Tour and since then we have completely turned our finances around. We sold a under-performing property and restructured our finances so that we could live the life we desired. Thanks for the guidance and we are grateful for our Keyspire family!!


I love being a Keyspire member! Great support, networking and real estate education opportunities that I haven't found anywhere else!


I believe Keyspire has the knowledge needed to help grow your rental income business! They take feedback very positively, and correct or improve on that information. I believe in Keyspire whole heartedly, from someone who knew nothing but believes they will bring me to the top. The KEY is that I follow all their instructions and take that leap of faith knowing I can trust in their company.


Keyspire provides a structured way to learn how to invest in real estate, and brings opportunities that most investors can't access.


Keyspire is very much committed to our success. Advising, helping, and guiding through the whole process of investing, from beginning to end!


You guys are providing an incredible service and I sincerely thank you for this! You've created such a great network of people. I feel incredibly safe in the Keyspire community. Thank you for providing me with this opportunity, I will make certain I do as much as I can with it!


The knowledge that you gain from being a Keyspire member is vital to achieving long term wealth.


Thank you for doing this! For being so good at it and inspiring me to finally make the changes I should have done years ago!


I can't put a dollar value on the information I have learned and the contacts I have made. If I were to do this myself it would have taken me many years and I probably would not have had the courage to even start. It's been the wildest ride and most amazing experience of my life.